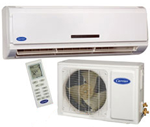 What is Ductless?
You guessed it – no ductwork. With a Ductless system from Carrier®, you don't need it. Whether you live in a new home or an older home without ductwork or you want more complete year-round climate control over a specific room or area of your home, Ductless systems are an efficient way to expand your comfort, no matter the challenges your space presents.
Ductless systems have just two main components and no invasive and costly ductwork, which means installations are often done in a day. The indoor unit is typically mounted on a centrally-located wall within your home that easily connects to an outdoor unit. Going ductless is the perfect upgrade to inefficient baseboard heaters and noisy, view-obstructing window air conditioners. Rather than extending the home's existing ductwork or adding electric resistance heaters, a ductless system delivers efficient heating and cooling and is quicker and less expensive to install.
Ductless systems can be configured with either one or multiple indoor units powered by a single exterior compressor.:
Single Zone - Ductless air conditioners and heat pumps can be installed so that one indoor unit corresponds to one outdoor compressor. The compressor carries refrigerant and power to the interior unit via a small pipe, running through a small opening, installed with very little impact to your home.
Multi Zone - One outdoor compressor can power up to nine indoor units, each separately controlled by a wireless remote, offering you flexible options for configuring your comfort solutions. You can even choose to add units to your compressor in the future after you have installed just two indoor units (depending on the maximum number of connectable units), allowing for more streamlined expansion or renovation of your home as time and budget allow.